For the past few weeks I have enjoyed participating in the weekly #careerchat on Twitter. Each Tuesday @MyPath_MP & @bizMebizgal host the chat by using the hashtag to connect those interested in discussing topics related to to topics on either landing a job, tips on business activities or a chance for people to connect and network with other professionals.
To participate in the chats you can either include the hashtag #careerchat within each tweet, or simply visit www.TweetChat.com to participate in various Twitter chats. For a full list of ongoing chats, I suggest visiting this Twitter Chat LIST. Many of these chats would be beneficial for companies and individual to grow their online communities.
Today's #careerchat was around a topic I am very passionate about, personal branding. Determining the voice of your personal brand is an important first step in creating your social media channels. It has been a hot topic and one that has the most questions from those that are first getting started in finding their career.
For both my husband @BrianGainor and I, networking with young professionals and helping guide them within their career path is very important. I find the weekly #careerchat is an excellent opportunity for those of you looking to get more knowledge on how to further your career or gain helpful business tips.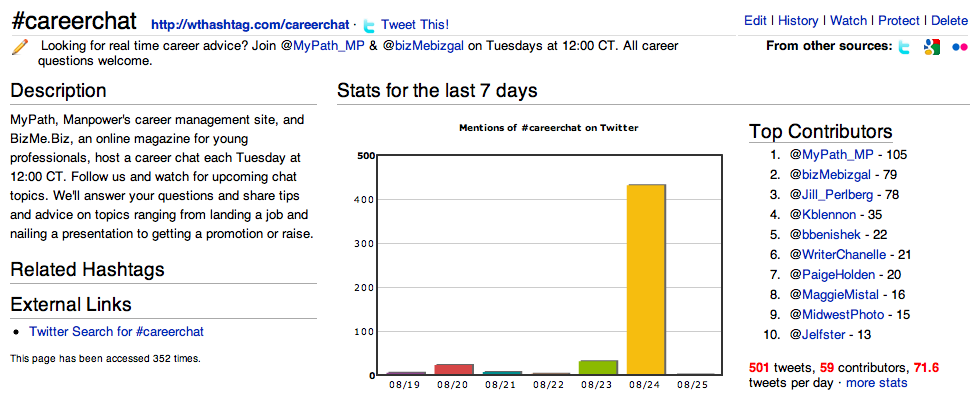 There were 501 tweets and 59 contributors for today's personal branding #CareerChat. Below are some key quotes I found most helpful with today's #careerchat. What are your thoughts on these topics?
Personal branding is an important step in determining what voice you will have within social media.
RT @Jelfster: Treating yourself as a company and elevating and promoting that company accordingly.
@MyPath_MP social media gives you a loud voice to represent yourself. Videos show your true self.
Be genuine and stay true to yourself.
RT @MyPath_MP: I think if you're good at something, it comes through w/o you having to say "Look at me!!" Show it, don't say it.
Your Personal Brand must be focused on letting people know why you are successful at what you do.
RT @WomensAlly: It is important to know how to communicate your personal & social brand attributes.
RT @bizMebizgal: Q1: Personal branding is the way that you perceive yourself outside of work & how other people perceive you.
Join #CareerChat next Tuesday (August 31st) at 12pm CST to discuss topics on MBA's and certifications.