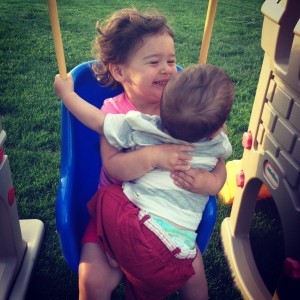 I've recently had family and friends ask me why I've become an Executive Consultant for Rodan + Fields. Believe me, if you had asked me a few years ago if I would be going into network marketing and direct sales, I would have said I don't think I would be good at that. My professional career has been in advertising and the word "sales" always scared me.
Rewind to two and a half years ago, and if I had known what I know now about this great R+F opportunity, I would have jumped at the chance and told my friend Brie "yes, thanks Brie!" when she had called to talk about a business opportunity she thought I would do well with. Simply because Dr. Kathy Rodan and Katie Fields are successful entrepreneurs that are using their clinically-tested skincare products to dominate the $3.9 billion anti-aging market, just like their did for acne with Proactiv.
At the time, I was working full-time with 17-month-old Clara and baby Garrett arriving any day. I was intrigued about the business opportunity to potentially be able to build up enough income to stay home more with my kids, and still have a professional career for myself. I so badly wanted an opportunity to not have to sit at a desk for 40+ hours a week, and instead have a more flexible schedule and see my kids more often.
Brie is an amazing business leader and definitely had me curious if I could succeed in direct sales, but I was worried about the investment (which seems so small now after knowing the rewards) and I wanted to first focus on finding a steady part-time job that would be a successful transition for me from being a Social Media Director.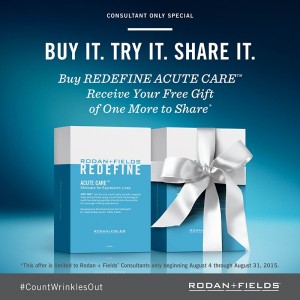 So now, fast forward to March of 2015, I am so excited to be a business owner with Rodan + Fields, along with being the Executive Director of United Adworkers and a marketing consultant for my clients, and at the same time build my team to help others have more financial freedom and flexible schedules.
After reading my reasons below, if you're interested in getting coffee or getting on the phone for 10 minutes to tell you more about the opportunity, feel free to send me an email. Plus, for people that want to join my team in August, you'll receive a free box of ACUTE CARE ($220 value).
Top 5 Reasons Why I've Joined Rodan + Fields:
I started using the Unblemish regimen as a preferred customer, after years of using Proactiv as a teenager, and loved the results of the products to have better skin.
Rodan + Fields is an unbelievable business opportunity. R+F provides the website and business tools, training opportunities and there isn't a need to host parties or keep an inventory of products. Everything is managed online.
When reviewing the Rodan + Fields compensation plan, it really is a no-brainer. The products work, with a 60-day money-back guarantee, so by telling your friends about great products that will help their skin, there's a huge potential for residual income for you and your family.
My R+F business gives me the opportunity to have a very flexible schedule, working how many hours I want and when I want, each week. This allows me to participate in more extracurricular activities with the kids, taking Clara to dance class and watching Garrett run the bases at tee-ball.
Through network marketing and by working with the incredibly talented co-workers that also manage their own R+F business, this has been a great opportunity to meet new people and learn new things along the way.
I am incredibly excited about this side business and I know my family and friends would love it as well. You can start small by only focusing a few hours a week on it, or go big and use your network, and your friends' networks, to build a successful business. It's about relationships and not sales. I'm more than happy to send more details, just like Brie did 2.5 years ago before I finally said yes!
CONTACT EMAIL: laura.gainor@gmail.com
BEFORE AND AFTER pictures